Oxbow Park was alive with live music, picnics, and family fun on Saturday night for the outdoor concert series in Old Town.
"Everything we heard was positive and everyone seemed to have a great time," said Michele Merryman Bell, director of the Palestine Area Chamber of Commerce."
Despite the heat, about 200 people attended.
The Cocktail Camper served as a beer garden; kids enjoyed games, and families and groups brought their own picnics to the event.
Glenn Barnhart, manager of the Memorial City Hall Performance Center in Marshall, applauded the event.
"The first summer concert was an absolute joy to attend," Barnhart said. "Perfect weather and a shady table under the oak trees created a wonderful setting to have a concert. You created a community event—not just a concert. Tables created a setting for people to gather and visit and talk."
Barnhart is the former director of the Piney Woods Fine Arts Association in Crockett, which hosts its own summer concert series in June at the J.B. & Kathryn Sallas Amphitheater in Crockett.
"The music was not so loud that you couldn't have a conversation," Barnhart said. "Yet, when a good song was playing, everyone at the table stopped talking to sing along. This was a community gathering."
The music for Saturday's concert was provided by Chris Oliver and Company, who entertained the crowd with soft-rock tunes associated with summer like "On Broadway" and "Easy Like Sunday Morning."
Merryman Bell said the only negative comment related to moving the port-a-johns inside the fence – an easy fix.
The Palestine Area Chamber of Commerce, Economic Development Corporation, and Smooth Rock 93.5 joined to present this three-concert series in Oxbow Hollow, 215 E. Crawford, in Old Town.
Special to these events will be sponsorship tables and a tablescape competition.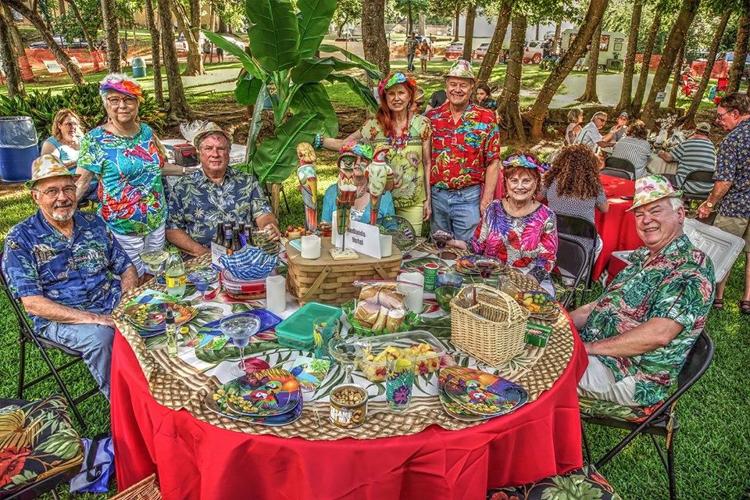 There were 10 table sponsors for the first concert.
Table themes included seascapes with mermaids, antique/vintage cars, Margaritaville Parrot Heads, a fiesta, cotton fields, and a topiary garden.
"The table sponsors really went all out," Merryman Bell said. "It was hard for us to name a winner for the contest. The judges ultimately decided to name The Redland's Hotel the winners because they even dressed-up to go along with their theme of Jimmy Buffett's Margaritville Parrot Heads."
The series includes two more concerts: The Magills will play on July 13; The Tuxedo Cats will wrap up the series Aug.10.
For each event, the area will open at 5 p.m. Music begins at 6 p.m.
General admission is $10
To participate in the table decorating contest, sponsors purchase a table for 8 for $400 an event.
Follow the Palestine Area Chamber of Commerce on Facebook for more details and sponsorships at www.palestinechamber.org.