Kiersten Leopold and Johnathan Berry are in their first year of lifeguarding for the YMCA in Palestine—and they love it.
They are two of a team of 16 local kids who take seriously their roles watching over aquatic activities at the center.
The Aquatics and Assistant Program Director, Blake Ormsby, trained this year's staff, almost all of whom were new to the job.
"It proved to be a challenge," Ormsby said. "However we've had a number of lifeguards step up and fill in leadership roles with confidence."
Ormsby trains and hires lifeguards and organizes the programs that go on—from swimming lessons to water aerobics. He is certified as a lifeguard instructor and as a pool operator.
He monitors and balances the pool water and makes sure the environment is safe for patrons and staff.
"My favorite thing about working here is how much effort everybody puts in," Berry said. "Especially with COVID and everything, there is a lot of things that are really hard to get in line.
"Everybody is working hard—whether its aesthetic or getting everything running smoothly, getting this stuff out here. All of this stuff, there is a lot of effort that goes into it."
To officially be able to guard lives near the water, the staff went through a variety of training sessions which began with online videos.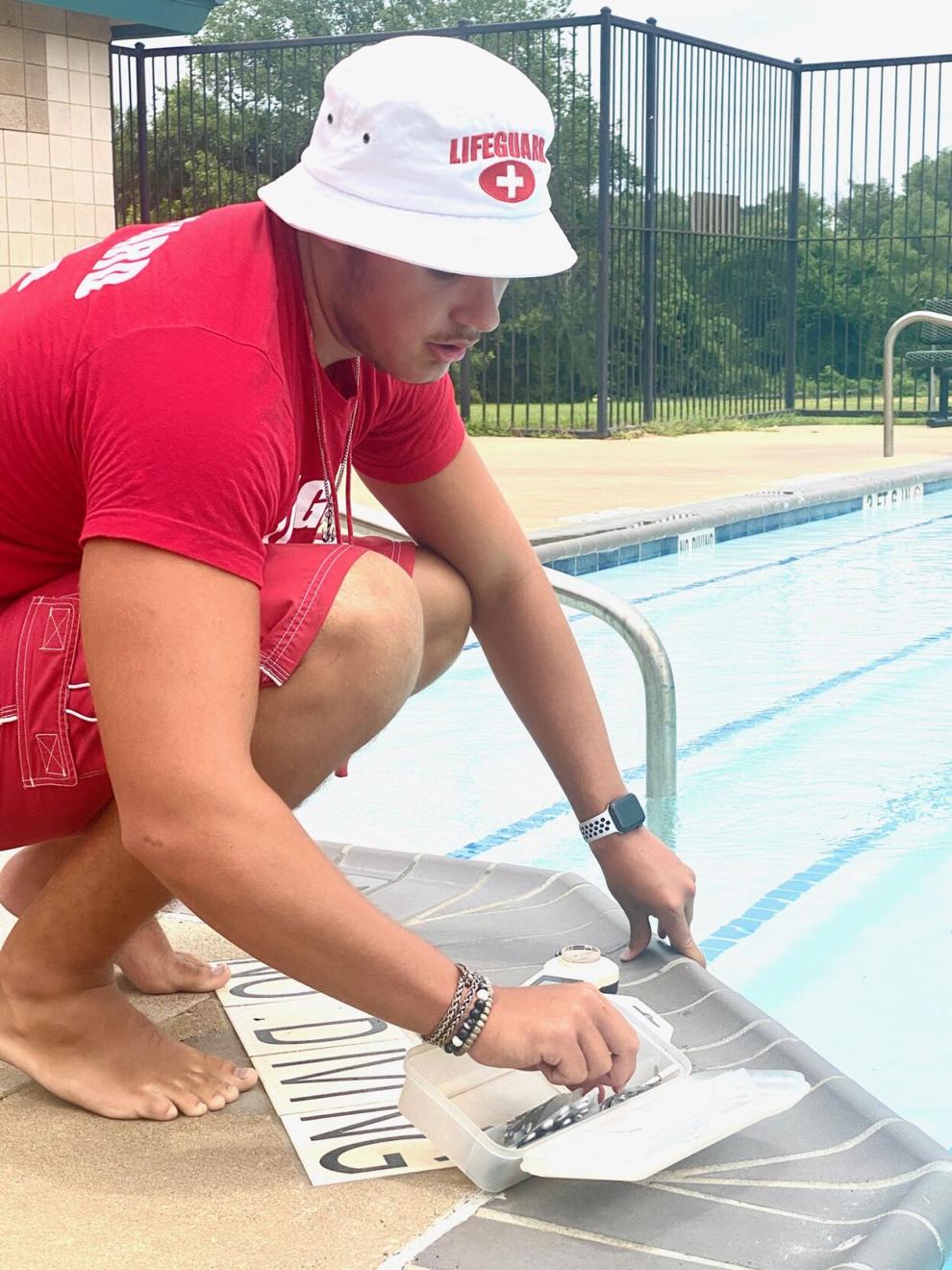 When that portion of the training was complete, the trainees took to the water where they had to demonstrate the ability to swim 300 yards, tread water for two minutes without the use of hands and then swim down, pick up a 10-pound brick and swim another 17 yards.
"We had a really good teacher with Blake. He made it very engaging," Berry said.
Ormsby has been lifeguarding and swim instructing since 2018 when he graduated from Palestine High School. After enlisting in the Marine Corps Reserves, he came back in 2020 to work for the YMCA.
Once the guards are able to complete the water tasks, the team then had to learn different rescue techniques, according to Berry and Leopold.
The work included performing CPR on dummies—two full size mannequins and infant mannequins.
"After that, we do scenarios with everything put together," Berry said. "You start with a victim, someone playing dead in the water and all the way to saving them."
Leopold explained that the lifeguards took turns playing the victim until it was time for CPR.
For drowning victims, ventilations are essential.
"If you are doing a drowning victim, you start with ventilation," Berry said. "Normal CPR, not drowning, you start with chest compressions."
The CPR is more effective using the masks, ensuring the air is getting where it is needed—it also helps eliminate variables.
Most of the time, it is fun work according to Leopold.
"Basically little kids get scared and you jump in and help them," she said.
Lifeguards who are interested in teaching swimming lessons receive extra training and are able to evaluate and teach kids of all skill levels.
"The more people you teach to swim, the less that drown," Leopold said.
The young kids look up to their instructors and guards and Leopold said she loves seeing the young kids when she is out and about.
"They see us in Walmart and are like that's my teacher!"
The guards agree this year's team is dedicated to the job and really enjoy their time together.
"We have all become a giant group of friends," she said.
The pool itself is owned by the city of Palestine, but is operated by the YMCA.
Residents who pay city water bills are able to get a pool pass at City Hall. The pool is also available for rent by contacting Jeremy Janz at 903-729-3139. For a full schedule of pool activities and lessons, go online to https://www.palestineymca.org/aquatics-swim-team.