After 22 years in the funeral home business, a local man decided that snow cones would be his next career venture.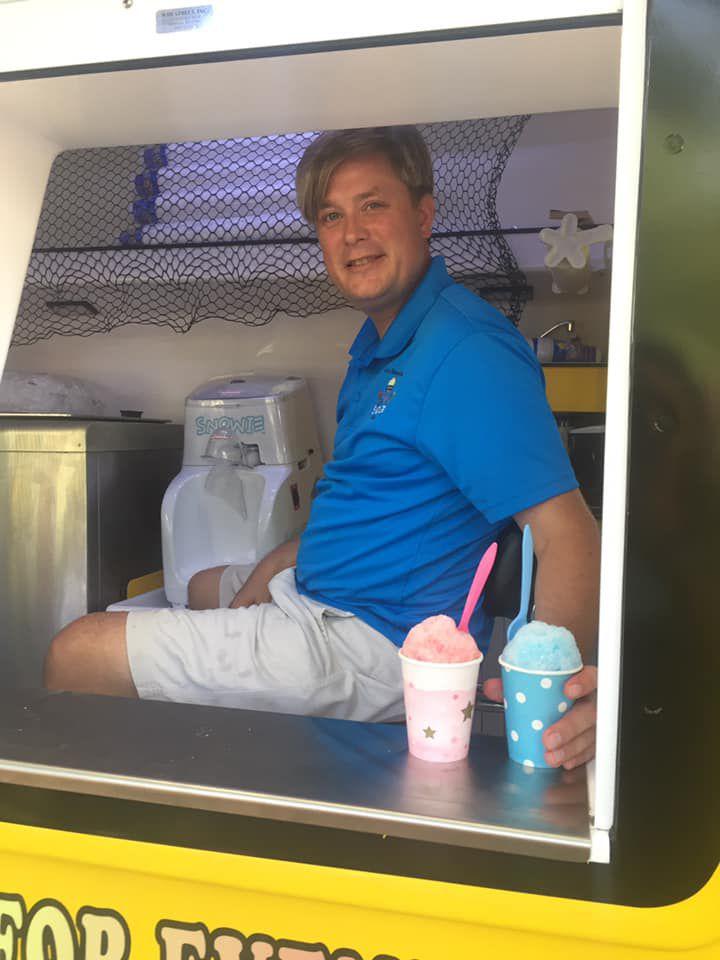 "I never have a bad day at work anymore," said Snowie Bus owner Jon Rhone. "My customers, especially the kids, are always happy to see me, and that feels good."
Rhone, 40, grew up idolizing his grandfather, Cotton Jeffus, a funeral home director in Grapeland for Bailey and Foster Funeral Home. As soon as he could, Rhone began working under his grandfather's tutelage and eventually went to mortuary school. Upon graduation, and with years of experience under his belt, he began his own career with Bailey and Foster, only leaving to work for his cousin Ben Rhone at Rhone Funeral Home when it opened.
Long hours away from his family began to wear on Rhone, a married father of two girls, who are 10 and 4. That's when a story birthed an idea that would spur Rhone into starting a new career in shaved ice.
According to locals who grew up here, in the late 60s, early 70s, an elderly African American gentleman named Edgar, most likely in his 70s at that time, would drive around the neighborhoods of Palestine with a generator-run ice machine in the back of his truck, stopping to make snow cones for the children in the community. For a quarter, children could pick one of five flavors that included grape, coconut, banana, cherry or rainbow. Edgar would ring a bell and kids would come running.
"I don't know how many people have shared stories about Edgar with me over the years, but there was something about it that appealed to me," said Rhone. "When they'd talk about him, they had such affection, like when kids talk about Santa Claus. That's really what made me decided to sale snow cones."
The transition didn't happen over night. Rhone and his wife, Jamie, researched the business extensively looking for just the right fit for both their family and the community. They decided to go with the "Snowie" company, complete with a Snowie Bus making their operation mobile, just like Edgar before him.
The big yellow bus is a snow cone party on wheels. For events, Rhone can put out a flavor station and kids can pay for their ice and then choose their own flavor or rainbow of flavors.
His bus is also armed with a set of speakers, allowing Rhone to DJ parties and play music for events.
Rhone loves that his eldest daughter Jilly gets to tag along and help out when she's not in school.
From day one, Rhone has loved every minute of his new gig.
He got his big yellow Snowie Bus on May 3, was booked for his first event on May 4, and has been busy ever since.
He serves at block parties, apartment family nights, festivals, public events, Business Thursdays and can be booked for birthdays, fundraisers, corporate events and parties - he's even done a gender reveal party with snow cones – the syrup ended up being blue.
Rhone still helps out at his cousin's funeral home when needed, but is no longer on call day and night. He's available to attend his children's activities, and he can be at home at night and go with his girls on family vacations.
For more information or to touch with Rhone and his Snowie Bus is to log onto his Facebook page: https://www.facebook.com/jonsshavedice/