Some familiar faces were in town for the Christmas holidays, which is not unusual. However, many young men who came to visit their families last week are currently serving in the military, and the new COVID-19 protocols make those homecomings quite rare. Three were willing to share their unique perspective on how the virus is affecting their service.
RYAN JONES
Ryan Jones, 24, joined the Army in the spring of 2020, just as the coronavirus was gaining a foothold in the United States.
Jones attended Neches schools through tenth grade, graduating from Palestine High School, where he participated in Wildcat baseball as a pitcher and utility player.
"I learned a lot of work ethic from my coaches back in high school," he said.
He attended Stephen F. Austin in Nacogdoches for several years and was in the Reserve Officers' Training Corps. That led to his decision, last year, to join the Army.
"A lot of things went into my decision," Jones said. "First, was just service to my country, and I wanted to make my family proud. My Uncle Jeff and Aunt Lisa Malone are Army veterans, and my Papa, Buckley Ives, served in Vietnam."
Jones enlisted June 15, 2020, so COVID-19 restrictions have played a big part in his experience from day one. Incoming recruits were initially quarantined for two weeks.
"We had to constantly be clean, sanitizing our hands," Jones said. "We had to remain a certain distance apart, the six-foot rule."
Masks have been a constant, with a few exceptions.
"When we got up to shoot we could take off our masks, and any time we were exercising, we could drop them down to our chins," Jones said. "It is second nature to wear one now, even though I hate it."
Despite precautions, Jones contracted the virus while in basic training.
"I got COVID after I hit the four-week mark, along with about 30 others out of our company," he said. "We were admitted to the Fort Benning Recovery Center on Kelley Hill, with a bunch of others. I was isolated for two weeks, two people per room and we could not go anywhere."
After that quarantine, Jones was able to return to ranks and complete his training.
While new recruits would normally expect to visit with family after 10 weeks and 22 weeks, the newest soldiers' visits have been severely curtailed.
"We have not been allowed any family visits," Jones said . "No Family Day, no family presence at our basic training graduation or at infantry graduation ceremony. It was all virtual. In all, I didn't see my family for six months. That did make it harder, but it also made me that much more determined to finish."
Upon Infantry Graduation, Jones went on to complete jump school. E-3 Private First Class Jones' next duty station is Fort Bragg in North Carolina, where he has his sights on selection to Special Forces.
While between posts, Private Jones finally got to return to Texas on leave, delighting his parents, father, Craig and step-mother Jessi Jones, and mother, Sonya and stepfather Trevor Cowart, and siblings with an unexpected visit.
"It's good seeing family," Jones said. "I loved surprising my parents. It was just enough to see them, tell them I love them and give 'em a hug. But I'm ready to get back to work."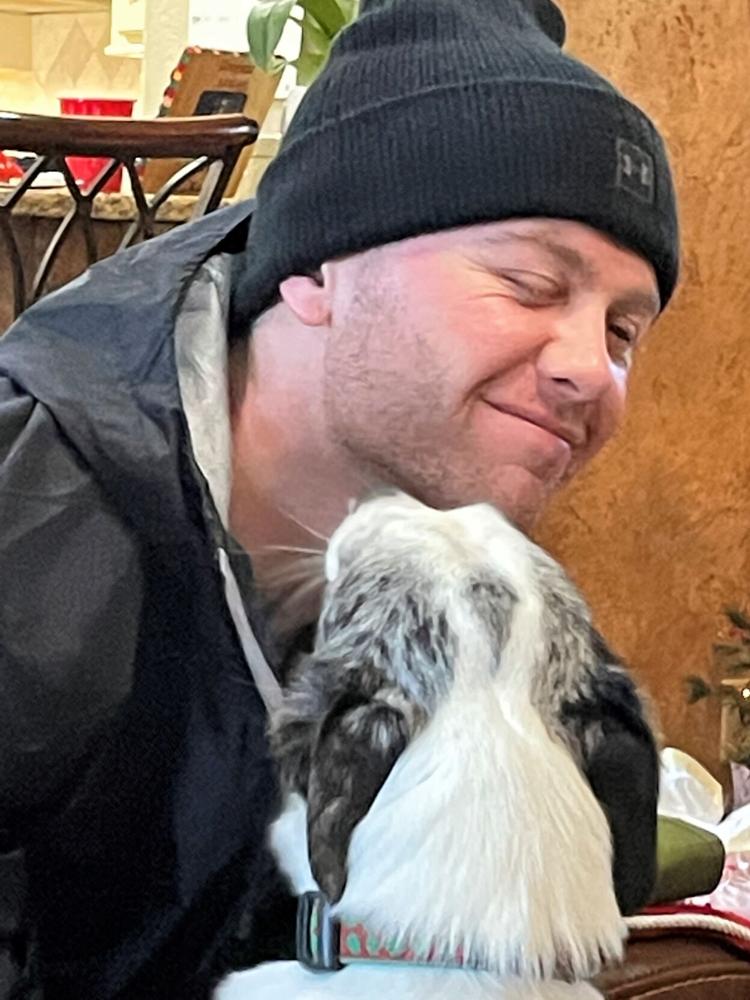 When he reaches Fort Bragg, Jones will again have to be quarantined for 14 days. It's the new normal.
ISAAC FULGHAM
Isaac Fulgham, 21, was also home briefly just after Christmas visiting his parents, Paul and Chris Fulgham of Palestine.
Isaac is another PHS graduate. He was a member of the Wildcat Marching Band and a sax soloist with the school's jazz band. He was on the tennis team and a member of National Honor Society, and had accrued 27 college hours before graduation in 2018.
After high school, Fulgham considered college at Abilene Christian University after being offered a Presidential Scholarship.
"When I went for financial counseling and they put the figures to it, it was still going to cost a lot, so the military seemed like a more logical step," Fulgham said."
Additionally, both of Isaac's grandfathers served in the military, and Isaac's father, Paul, was a career Navy veteran who retired as a Chief Petty Officer. Paul touted the Navy as a good choice.
Isaac was especially interested in learning a transferrable skill, and thought he might train as a four-wheel vehicle mechanic. The aptitude tests results, however, steered him in another direction. Isaac's scores were high and qualified him to become a Navy translator.
"You take the Armed Services Vocational Aptitude Battery, and my overall percentage score led to another test, the Defense Language Aptitude Battery," Fulgham said. "High scores in that one help the military decide if it is worth it for them to spend nine months teaching you a language."
Fulgham was enrolled in the Defense Language Institute in Monterey, California, where he earned college credits while learning Arabic. He is now stationed at Augusta, Georgia, and has two years of his six-year commitment under his belt.
Since COVID has come into the picture, the sailor has seen added restrictions.
"When we were still in training at DLI in late February, they closed down the base to everyone who didn't live on post, and if you lived on post you weren't allowed to leave," he said. "I graduated in May, and normally your Permanent Change of Station would have a detach by date and a report by date, with some leave in the middle. They just cancelled the leave part. Luckily, Dallas was on the way from California to Georgia, and we had a layover there, so I saw my parents for an hour or two."
Again, upon arrival at new post, there was a mandatory 14-day quarantine.
Asked if he will be getting the COVID vaccine when it becomes available, Isaac said, "It's voluntary right now, but I haven't gotten word from my command. The scuttlebutt is that mandatory vaccines could be coming."
The PHS grad is comfortable with his decision to join the military, and would recommend it to other graduates.
"Yes, it's the military, but at the end of the day, they've sent me to college," Fulgham said. "I'll have the GI Bill and Texas residents also get an extra 150 college hours when you enlist from the Hazelwood Act, and tuition assistance, which pays for 15 to 16 hours a year. I think it's one of the most reasonable things to do. If you can get someone else to pay for your education, that's pretty good."
Will Fulgham get to see the world as a Navy sailor?
"I picked the wrong job," he said."This job doesn't get deployed too much. It's computer work."
PAUL MACMILLAN
Seeing the world was one aspect of the military that appealed to Neches' Paul MacMillan when he graduated in 2015, where he played baseball and ran cross-country. Today he is a seasoned Navy torpedo-man on a submarine.
"I went a semester to college, but I felt like I wasn't mature enough at that point in my life to do college," MacMillan said. "I wanted to get the maturity that the military gives you and I wanted to see the world. It has worked out. I like it. I've been a lot of places. In the States, the east and west coasts, Connecticut, I visited Adirondacks, New York, and San Diego while my boat was there. I've also been to Alaska and Hawaii. I've had liberty ports in Japan, Singapore and Australia, and I am currently stationed on Guam."
Paul was back in Texas briefly during the holidays, enjoying a visit with his parents, Tressa and David Hardin. Tressa, too, is a veteran, having served in the Air Force.
MacMillan enlisted at 19, and at 23 he is seeing many changes that the current pandemic has brought.
"From my perspective, there is a lot that is different since COVID,' he said. "For one thing, it is a part of our uniform to wear masks. That's not voluntary. It was really bad in March when COVID hit pretty hard. The Navy wanted to minimize how often we were in big groups because we often muster in command. They also did away with our Physical Readiness Tests. We didn't have a single one in 2020. The goal throughout all has been to minimize close contact."
Asked if the new protocols have affected morale, MacMillan said, "I don't think we've lost effectiveness. Some people it hasn't affected much, but a lot of sailors don't like how restrictive it is. At first it was almost impossible to take leave – only if something dramatic happened, like a family member dying. Toward the end of the year, they have come off of that a little and made it easier for the guys to take leave. I just came home Christmas, but before that was September 2019. In other years I probably would've been able to come home earlier."
MacMillan, now a Petty Officer 2 class (E-5), just did a six-month deployment on a submarine, only surfacing rarely for a food load.
"It's a different lifestyle," he said. "Not something you jump into immediately but once you've adjusted it gives you a perspective on the little things you take for granted. Those six months can be rough but the feeling afterward is rewarding, a feeling I never get from anything else. You are mentally worn out but there is great satisfaction when you touch land in your home port. There's a lot of pride when you're pulling in, knowing what you've done." 
MacMillan has already re-upped for three more years, and will be moving to Virginia in March for shore duty.