While athletes competed in the Winter Olympics in China in January, a local kindergarten class studied the spectacle to write and illustrate a book. Jeanne Jackson's kindergarten class at Northside Primary School recently received their new book, "If I Were an Olympian," Friday morning at a release party in the school library.
The collaborative book features two pages per child, one with a full-page illustration and a second with a handwritten description of their participation in a chosen sport. Research involved studying and participating in different events. Students chose a sport and wrote a short description. They learned about editing and publishing their writing by revising their writing and preparing a final copy.
Jackson explained that her class learned to play many of the Olympic winter sports in the school gym. They played curling with a broom and a paper plate. They later celebrated with medal ceremonies on a podium.
"We did research on all the Olympic events; we learned about China; we did a parade and all the classes cheered us on," Jackson said.
Jackson has taught kindergarten 38 years and each class has written a book for the last three years. Her 2019-2020 class wrote about doing school at home during COVID-19, while last year's class wrote about cowboys.
Each class performed research before writing the books, which resulted in them learning new vocabulary and even using it when writing the book. She read some examples of sportsmanship lessons, such as:
"Figure skaters have to persevere."
"Athletes don't give up."
"Losers don't pout."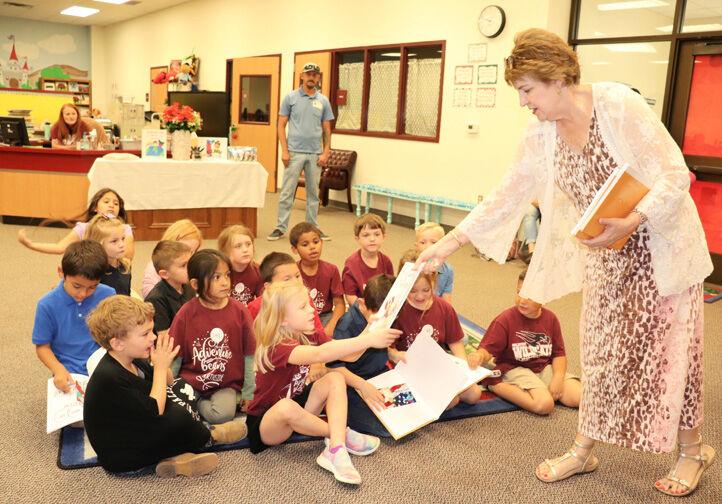 Practicing the ceremonies offered an opportunity to learn ceremonial decorum. The five and six year olds learned how to stand on a podium during the medal ceremony and the importance of standing during the National Anthem.
Each student had a story to tell. Calvin Johnson chose to write about speed skating because he likes running fast. He described the time he tried skating.
"It was hard but I had a time limit and I was pretty good," he said.
Johnson's illustration shows a large stadium with people cheering for the skaters.
"These are all people shouting, 'Go USA,'" he said.
Northside Primary Principal Traci Pridgen said working on the book has contributed to the students' vocabulary and reading and writing skills.
"They're published authors now," Pridgen said. "It's important that students see the fruits of their labor. They see a final product from the skills they are learning in kindergarten."