Anderson County Deputy Brad Colman and Sgt. Tabitha Frawner were awarded certificates for valor and distinguished service medals for heroic actions in the line of duty in a ceremony at the Anderson County Sheriff's Office Tuesday morning.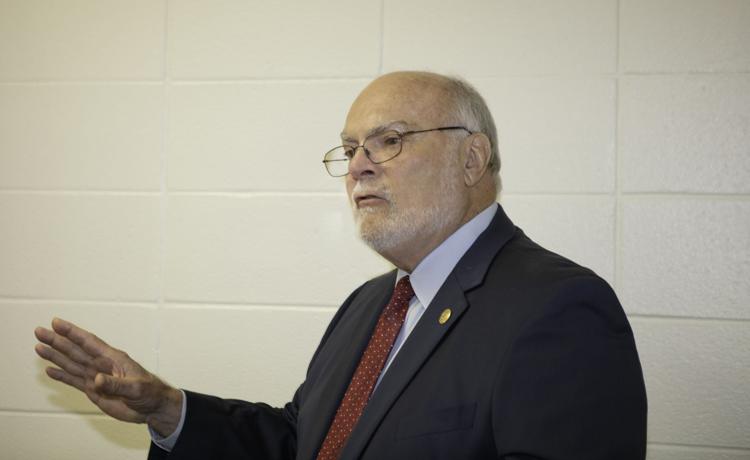 Surrounded by their law enforcement family, the officers were honored with proclamations from State Rep. Cody Harris (R-Palestine) and Senator Robert Nichols (R-Jacksonville) and flags flown over the Capital. Nichols made the presentations for both the House and the Senate in the absence of Harris, who could not make the ceremony due to a family engagement.
Coleman, who was wounded in the Oct. 19 shootout between Colman and suspect Terry Lee Countryman Jr. at Hickory Ridge Mobile Home Park, received a purple heart and a medal of valor; Frawner received a Lifesaving medal.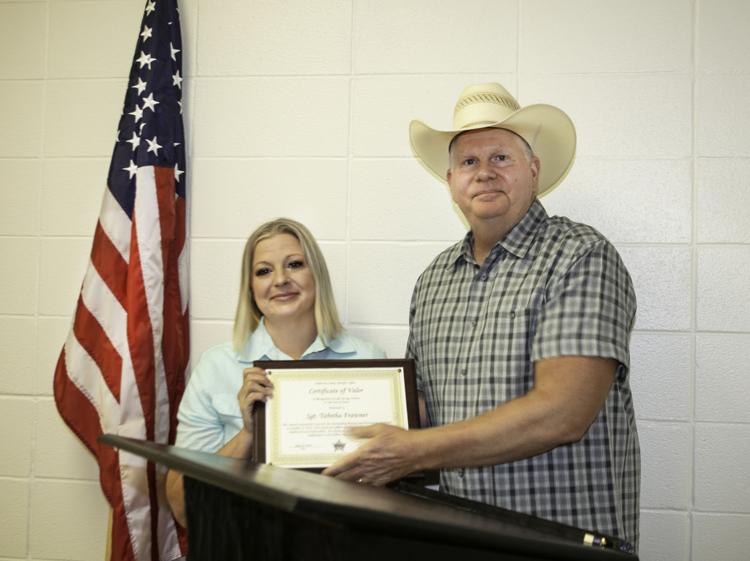 "This ceremony was to celebrates the valor and lifesaving skills of the officers that work here," said Sheriff Greg Taylor. "Coleman showed uncommon valor along with resilience, integrity and determination and it was Frawner's quick thinking and calmness that helped her save Coleman's life. These officers both displayed heroic and brave actions that day."
Colman was investigating a vehicle that Countryman had allegedly stolen earlier in the day.
Frawner is credited with saving Colman's life. Frawner used her handheld radio cord as a makeshift tourniquet until Trooper Leonard Sanidfer with the Department of Public Safety arrived with an actual tourniquet for Colman's leg, where he was shot, before EMS took him to the hospital.
Colman underwent several surgeries on his leg. He was released from UT Health in Tyler in early December, after nearly seven weeks of treatment.
"Deputy Colman is doing well, but he is still recuperating and has not yet returned to duty," Lively said.
After Countryman, 34, of Palestine, shot Colman, he stole Colman's squad car and fled. A state trooper found Countryman near FM 2330 and County Road 458 later that day. After Countryman pointed a rifle at the trooper, the trooper fired his service weapon, wounding the suspect. Countryman later died at Palestine Regional Medical Center, Texas Rangers reported. The trooper who shot him was uninjured.