Palestine Area Chamber of Commerce's Graduation Parade Saturday honored graduating seniors from Anderson County.
"It was really nice to see our community come together to celebrate the seniors from all the schools in the county," said Autumn Baublet, a Junior Ambassador for the Palestine Area Chamber of Commerce, and graduating senior from University Academy.
Chamber President and CEO Tish Shade called the event a "reversed parade," as the graduating seniors lined the parade route in their caps and gowns, while maintaining the designated social distance of six feet. Cars of community members paraded by, waving and shouting well-wishes, as well as throwing and passing out treats.
"I could not have been happier with the turnout of this past weekend's parade," said Shade. "The students were very happy and grateful, as were the parents and families of the graduates.
Shade said they could not have accomplished this event without the sponsors and volunteers, with special notice to volunteers Jody Trout, Patricia Champagne, Anthony Snobeck, Dollinda Toole, and Kollin Pardue, as well as Jacob Wheeler and the Wildcat Golf Course for use of the golf carts.
Neil Patel dropped off kolaches and donuts that morning for the seniors and Jocelyn's donuts made all the students a graduate donut. Palestine Toyota gave gift bags that were filled Killions-tshirts, Dominoes-Cups, Century 21-Cups, Auto Collision Experts-pen and nail file, Chilis-stickers, Ram Jam Auto -2020 Graduate stickers, Carol Mettauer-pens, CBTX-pens and business card holder, Whataburger-coupons, Lulu & Kakes-free cupcake coupons, Little Caesars-free pizza and crazy bread coupons, and Results company-hand sanitizer.
"We are so grateful to our community," Shade said. "Diane Davis and her parade team rounded up everyone at the courthouse and lined them up for the parade. They are amazing. The weather was perfect for a parade. It all went off so smoothly."
The parade began at the courthouse and followed Avenue A to Main Street before looping back.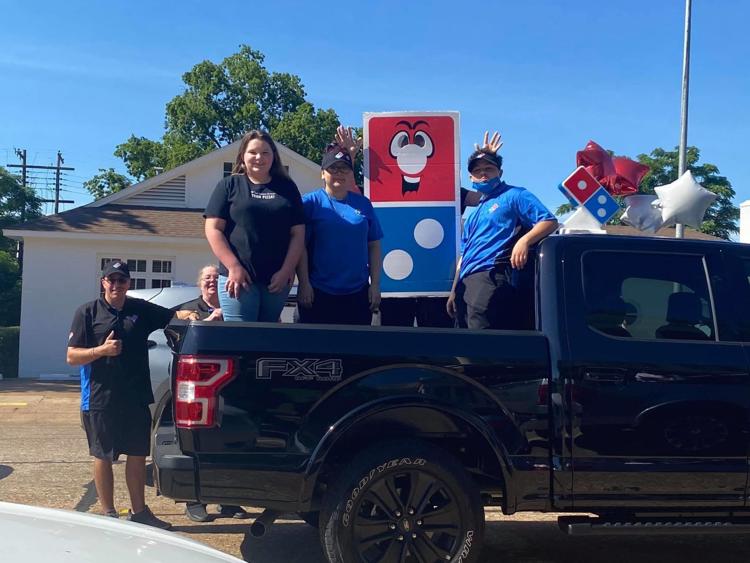 Among candy and shouted well-wishes and congratulations on their graduations, the students received some interesting gifts.
"One lady gave us lemons to make lemonade with, and one lady gave us tortillas, there was many who had silly spray, which was fun," said Baublet.
Baublet, 18, who plans to attend UT Tyler this fall to study Biology and Pre-Dental, called the parade a nice finale to the chaos caused by COVID. It also was one last opportunity to see four or five of her fellow gradates, as University Academy held separate ceremonies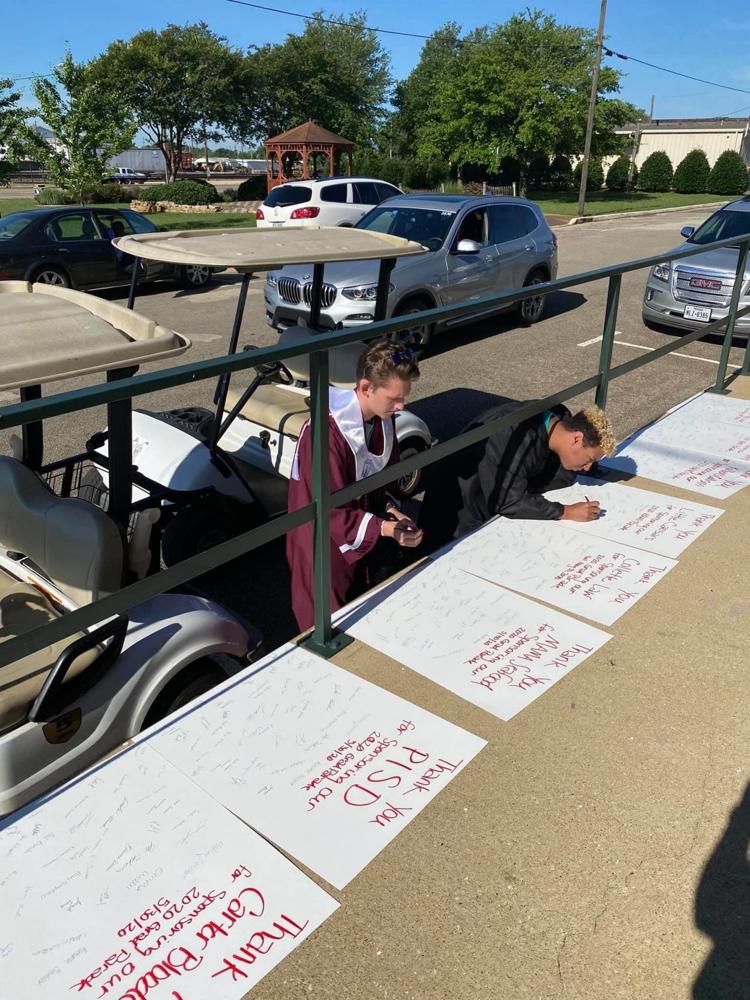 Event sponsors were the Palestine Area Chamber of Commerce, City of Palestine, KYYK 98.3, Palestine Toyota, Palestine Herald Press, Wildcat Golf Course, Chilis', Little Caesars, Auto Collision Experts, Domino's Pizza, Allstar Ford, Allstar Autoplex, Killion's Collision, Prosperity Bank, Collette Law, Mama's Seafood, Carter BloodCare, Landmark Realty, Palestine Independent School District, Great American T-shirt, Texas Discount Insurance, CBTX, Costlow Renovations, Elliott Auto Group, Palestine Alumni Association, Carter BloodCare, Palestine Air & Heat, Home Grill Steakhouse, Chopstix, Taquria San Luis, UT Tyler, and Jocelyn's Donuts.