Mark Harcrow celebrated his first anniversary as Palestine Police Chief on Tuesday.
It was a roller coaster of a first year fraught with social unrest in the streets, racially charged protests due to national headlines and unprecedented challenges.
"The biggest challenge we have faced since I took over has been the COVID-19 pandemic," Harcrow said. "With the pandemic, something we have not dealt with before in our life time, we really had to navigate staffing shortages due to quarantine rules and adjust how we were operating so we could still provide essential services, while keeping officers safe."
Harcrow and his department also felt the impact from the anti-police movements around the country following the murder of George Floyd last summer.
"We are really blessed to have a strong group of professionals in our agency that care about the people they serve," Harcrow said. "We also have a community that strongly support our staff and the jobs they do every day. Through all of this, we have worked to maintain trust and great relationships with our residents and businesses."
And then there was the record breaking winter storm, another first for the city of Palestine.
"Many of us had no power and no water at home, but we came to work every day and pushed through it," Harcrow said. "This was another instance where the community really came together and helped us get through a disaster."
Despite the challenges the department faced this past year, recruitment and retainment rates have been great.
"We faced COVID delays with the police academies, but were able to overcome that," Harcrow said. "Currently, we are in the final stages of hiring two applicants that will bring us to full staff. Going forward, I will have to work with city leadership to make sure our department is prepared for the increasing development. There is more growth happening right now in Palestine than I have seen in my lifetime. We have to make sure that our department continues to grow as the city grows."
Harcrow has now had the opportunity to work with two Anderson County sheriffs, Greg Taylor, who retired in 2020 and Rudy Flores who took office Jan.1, 2021.
"Coming into this job, I knew we would be electing a new sheriff in the fall," Harcrow said. "Since Sheriff Flores took over in January, we have really worked hard at strengthening the relationships between our agencies. It's no secret that we have bad people and crime in our community. The Palestine Police Department and the Anderson County Sheriff's Office having a strong bond is really a force multiplier. We are now working as a team to address issues and improve the overall quality of life here in Anderson County."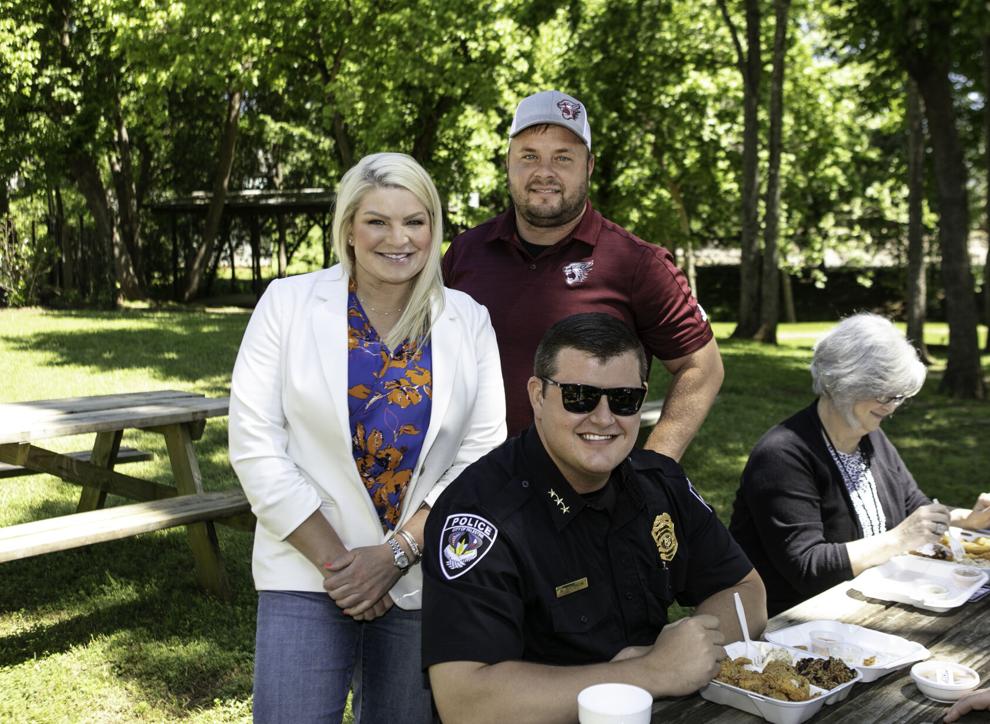 "I believe Chief Harcrow is doing a great job. We have been able to forge an alliance and work on matters of mutual interest without any problems," said Anderson County Sheriff Rudy Flores. "He and his department have made themselves available to assist us in providing the best services possible for our community."
Overall, Harcrow has enjoyed working for the people of his hometown the most. Being Palestine's Chief of Police has been a dream come true to Harcrow.
"I am just a regular guy that is lucky enough to be able to serve people and a city that I love," Harcrow said. "Everyday when I walk through the doors, I am humbled. I never take that for granted."
Harcrow, who has been with the Palestine Police Department for more than a decade, was promoted to captain, and then assistant police chief, by his predecessor, Chief Andy Harvey. He served as interim police chief for six months prior to being named Palestine Police Chief on May 4, 2020.
A graduate of Palestine High School, Harcrow earned a bachelor's degree in criminology from the University of Texas at Arlington. He also holds a master peace officer license.