The exchange of vows for a local couple was made even more special on Tuesday as several special guests arrived to take part in their big day.
At 11:22 a.m. on 11/22/22, Greg Rush and Frances Davis pledged their commitment to one another at the Montalba Chapel. On hand to witness the occasion was a busload of "grandparents" from Legacy at Town Creek. Each was decked out in their finest and made up to the nines, the residents truly sparked a palpable air of joy for the couple.
"We originally planned for it to be just us with the pastor and his wife," Rush said. "When it was suggested to invite the Legacy residents, I knew it would feel better having them there."
Legacy resident Neta Eldridge had been looking forward to the weddubg for quite a while.
"It's really exciting to be here," Eldridge said. "I just wanted to see the wedding. I thought it would be nice. And you know, you just can't be unhappy when it's wedding day."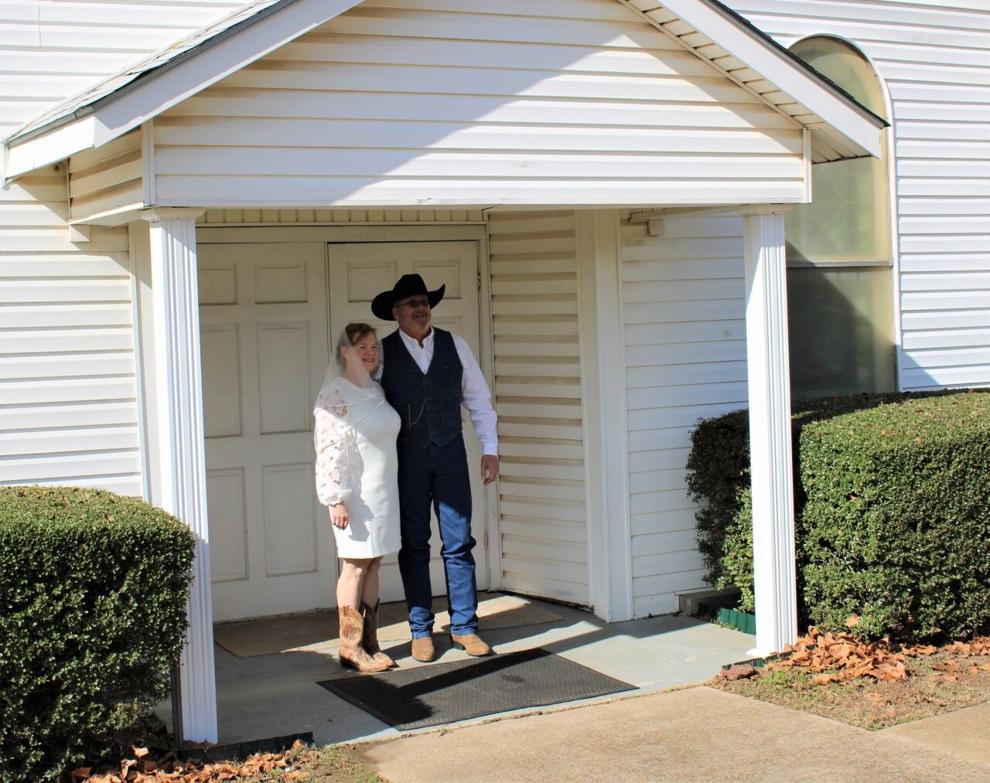 And a beautiful day it was. Montalba Chapel is certainly not the largest venue, but it is near perfect in every other way. The amazing stained glass provided a beautiful backdrop for the ceremony, which was performed by Pastor Jimmy Reed of Back to the Bible Church in Oakwood. Even for an informal wedding such as the Rush's, the former Methodist church feels wonderfully decorated and appropriately inviting.
The chapel was moved to its current home in 1912 from a site known as Pace's Chapel, about two miles north. The move was made by placing logs under the buildings to be used as rollers and the building was then pulled by oxen or mules. The former church is now a wonderfully restored treasure fully owned and operated by the Montalba Community Improvement Association.
"These beautiful windows were found in Kemp in the 1960s," said MCIA director Sherrill Poff. "Several carpenters in the congregation transported them to Montalba in trucks, praying all the way that they would arrive safely and intact."
The windows did arrive intact and certainly made for a spectacular setting. But it was, perhaps, the presence of the Legacy residents and staff that brought the day together. Legacy's Ally Hauck is an experienced photographer and Legacy at Town Creek gifted the wedding day photography to the newlyweds. After the ceremony, everyone gathered around and raised a toast of sparkling grape juice to the couple.
But not many things can beat the feeling of having several "grandmas" in the building to make everything more genuine and warm.
"Oh goodness, this is amazing," said Catherine Minter, Legacy Volunteer and Community Liaison. "They are so happy to be there for other people and celebrate love. It makes them feel needed."
Legacy at Town Creek is a full-service skilled nursing and rehabilitation facility located at 2212 W Reagan St. in Palestine.
For more information call 903-727-8500.
The Historic Montalba Chapel is located on the west side of Hwy 19 in Montalba.
For more information contact Sherrill Poff at 903-731-3350.