Saturdays in Palestine just got a lot tastier and a whole lot friendlier.
Palestine's Farmers Market had its opening day Saturday, March 27, with 17 local vendors and throngs of shoppers.
April Shaner and her husband, Roger, began planning this season's farmers markets roughly two months ago and despite some recent inclement weather, vendors showed up with plenty to choose from and even more community spirit.
"We believed that if we build it, they will come," April said. "We want to provide an outlet for local growers and creators as well as to be a community builder."
April said she wants to extend her collaborative instinct further into Palestine by building future relationships with local school agriculture programs, as well as local restaurants to feature cooking demonstrations and food trucks at the Farmers Market.
"I want this farmers market to serve our community" she said. "Farming should be family friendly."
Featured products at Saturday's market were grass-fed beef, fresh eggs, single-origin coffee, local honey, pecans, and an array of jams and baked goods.
Palestine Texas Pecans owners, Jim and Suzy Livergood, offered candied pecans as well as local honey at their well-stocked booth. This was the second weekend of Dogwood Trails Festival vendor experience for the couple, teaming up with April to make homemade fig pecan cakes.
Another vendor, 2 Hats Coffee, provided samples of their expertly roasted and ground coffee.
Owned by Javier and Chere Montero, based out of Edom, 2 Hats Coffee is single-origin, fresh roasted organic Costa Rican coffee that is robust but smooth.
"He is a perfectionist about coffee," Chere said of Javier, before going on to explain the care they take to properly store and package their coffee to maximize flavor while keeping out humidity, ensuring the perfect cup, every time.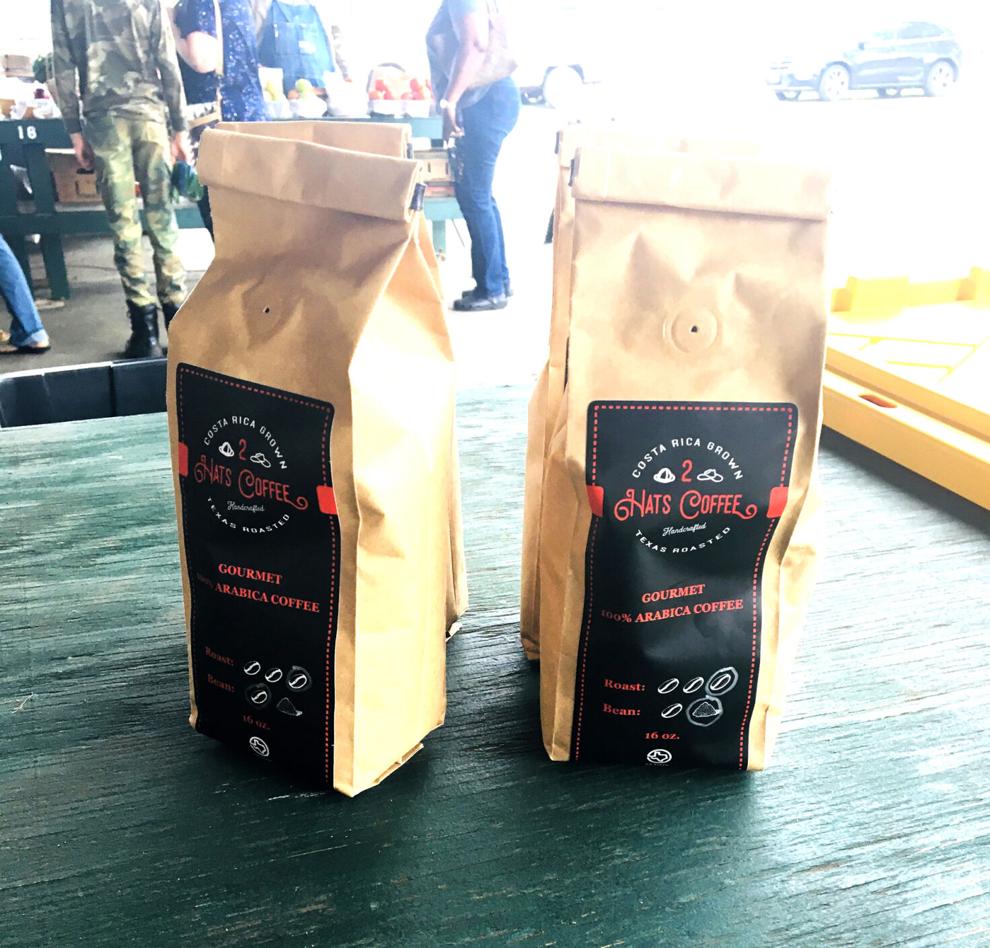 Christine Martin, with The Regen Ranch, had fresh grass-fed beef, lamb, turkey and pork available for purchase.
"All meat from The Regen Ranch is pasture raised and completely soy, corn, egg, GMO-free," Martin said. "Everything is treated holistically."
The Palestine Farmers Market, located at 813 W. Spring St., will be open 8 a.m. to 2:30 p.m. every Saturday through Christmas, with hours likely adjusted for summer heat.
Updates, as well as vendor information, will be available on Palestine Farmers Market Facebook page, www.facebook.com/PalestineFarmersMarket.com.