The star of Elkhart native Tye Sheridan, 22, keeps burning brighter.
Sheridan returns to the big screen this week in The Night Clerk. Unhappily, the R-rated, 90-minute film is not on the calendar for Schulman Dogwood 6 in Palestine, but locals can catch it online through Amazon Prime and Netflix.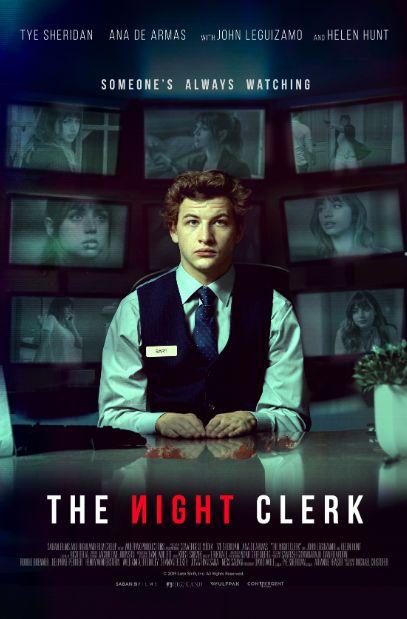 Sheridan, the son of Stephanie and Bryan Sheridan of Elkhart, has become one of the industry's most-in-demand actors. The Night Clerk is one of four films featuring Sheridan this year, including the Sci-Fi thriller Voyagers, with Colin Farrell and Lily-Rose Depp, as a member of a space mission.
In a new television series with Andi MacDowell called "Wireless," Sheridan plays a self-obsessed college student stranded in the Colorado mountains with his best hope for survival – his smartphone.
Still in pre-production, the Card Counter, another of Sheridan's upcoming films, has not set a release date.
In Night Clerk, Sheridan plays Bart Bromley, a young, socially challenged hotel clerk who witnesses a murder and then winds up as lead detective's (John Leguizamo) top suspect. The movie also stars Helen Hunt and Ana de Armas, who starred in Knives Out.
Starting as a child actor, Sheridan was cast in his breakout role in Terrence Malick's movie The Tree of Life (2011), opposite Brad Pitt, Sean Penn, and Jessica Chastain. The film won the 2011 Palme d'Or at the Cannes Film Festival and the 2011 Gotham Award for Best Picture, in addition to three Academy Award nominations.
Sheridan won the 2013 Marcello Mastroianni Award at the Venice Film Festival for his captivating performance in the Southern drama, Joe (2013), opposite Nicolas Cage.
That same year, he was recognized by numerous film critics for his starring role in Jeff Nichol's coming-of-age drama Mud (2012), opposite Matthew McConaughey and Reese Witherspoon.
He received a 2014 Critics' Choice nomination for Best Young Actor; the cast was honored with the 2014 Robert Altman Award at the Independent Spirit Awards.
His acting credits for 2014 also include The Forger and a recurring role as Justin in the television series, Last Man Standing. In 2015, he starred in Scouts Guide to the Zombie Apocalypse; Dark Places with Charlize Theron; and the indie film, The Stanford Prison Experiment.
In 2016, Sheridan was featured in the major blockbuster X-Men: Apocalypse, as a young Scott Summers, aka Cyclops.
He followed up with the Jennifer Aniston film, The Yellow Bird.
In 2018, Tye earned his first big screen feature role in Steven Spielberg's dystopian sci-fi film, "Ready Player One."
Aside from "Ready Player One," Tye starred in "Age Out," an indie film about a boy fresh out of foster care who drifts and commits petty crimes to survive. He discovers an impossible love in an unlikely friend. It's a gripping story underscoring a major social problem: Children aging out of the foster-care system.
In "The Mountain," starring Jeff Goldblum, a famous neurologist enters the twilight of his career. Sheridan plays a shy young man whom the neurologist takes on a tour of rural, mid-century mental hospitals, as the neurologist tries to reclaim his glory years.
Sheridan also became the voice of Turtle in the 2018 animated short "Crow: The Legend."
He made a cameo as X-Men's Cyclops in Deadpool 2 in 2018, and reprised the role in 2019 for X-Men: Dark Phoenix.
Sheridan was inducted into the Texas Film Hall of Fame, with the Rising Star Award, in Austin in March of 2017.