A monster alligator was caught last weekend and brought to The Sportsman's Memory Shop in Grapeland.
This massive gator measures a whopping 12'10" and weighed in at approximately 900 lbs. It was caught in Trinity County using a gator set line.
Sportsman's Memory Shop co-owner Bobby Shaw said there are a lot of logistics to an animal of this size that people don't usually think about.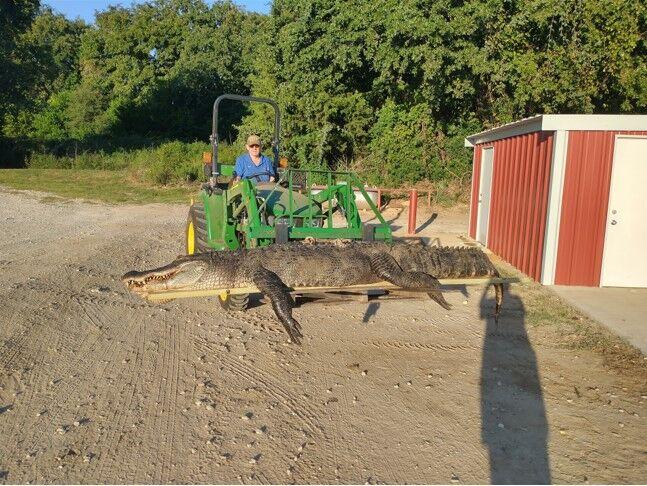 "This one's going to end up being a rug," Shaw said. "We could certainly do a mount, but it would be too big to put anywhere!"
A measurement just shy of 13 feet is abstract to the casual observer but is quite a sight in person.
"It's crazy," Shaw said. "When a grown, six-foot, 250-pound man stands next to this animal and looks like a dwarf, you know it's a monster."
Texas has some of the biggest alligators in the United States. The previous world record American alligator was caught in Chalk Creek in 2008 and measured 14'8." The current Safari Club International world record gator came from Thomaston, Alabama, on the Alabama River. It was caught in 2014 and measured 15'9" and weighed over 1000 pounds.
Sportsman's Memory Shop has been producing some of the world's finest taxidermy for 42 years. Shaw and his partner, Robin "Trap" Coppedge, started the business in 1980 as two friends with similar interest in hunting, fishing and taxidermy. They are the recipients of over 30 State, National and World competition awards through the years and have produced work from all over the world including Canada, Africa, Australia, Russia and New Zealand.
"We've been producing the highest quality of work for a long time," Shaw said. "People from all over look for us because they know someone familiar with our work and they want the very best."
The Sportsman's Memory Shop is located one mile north of Grapeland, Texas, on US HWY 287.
For more information call 936-687-2945 or visit www.sportsmanmemoryshop.com.