The legendary Ray Wylie Hubbard will be playing a free concert at 8 p.m. Friday in Davy Crockett Park. This concert is part of the Piney Woods Fine Arts Associations' June Drive-In Concert series.
Hubbard, who's career has spanned six decades, has written songs and worked with some of the biggest names in the music industry, including Willie Nelson, Waylon Jennings, Jerry Jeff Walker, Ringo Star, Pam Tillis, Lucinda Williams, Hayes Carll, Pat Green and Slaid Cleaves.
Hubbard was born in Soper, Oklahoma, went to high school with Michael Martin Murphy and spent his summers playing folk music in Red River, New Mexico.
Hubbard was a leading figure of the progressive country movement of the 1970s, and is known for authoring the perennial anthem "Up Against the Wall, Redneck Mother," made popular by Jerry Jeff Walker.
Some of his other big hits include "Snake Farm," "Mother Hubbard's Blues," and "Conversations with the Devil."
Throughout his life, one of Hubbard's biggest influences in music has been blues legend Samuel John "Lightnin'" Hopkins who has strong ties to the city of Crockett.
Lightnin', who was born on a farm west of Crockett, played music along South Third Street, now known as Camp Street, throughout the 1930s and 1940s. Rolling Stone magazine ranked Lightnin' number 71 on its list of the 100 greatest guitarist of all time. A statue now memorializes him on Camp Street.
In his travels, Hubbard saw Hopkins play on multiple occasions. Hubbard recalls Lightnin' playing clubs and following full bands.
"After the band would perform, Lightnin' would come out with his old Gibson and plug into an amp and would mesmerize the crowd," Hubbard said. "He had this incredible charisma. Nobody will ever play like Lightnin'."
After partying and living large, Hubbard got clean and sober at 42 and began to redefine his music and learn new playing techniques. He took fingerpicking lessons to learn to play the "dead thumb" technique like Hopkins. For 30 years, Hubbard has been opening his show with a Lightinin' Hopkins riff.
Hubbard has also paid tribute to the musician in his songs, mentioning him in tunes like "Dead Thumb King" and "Cooler-N-Hell."
At 73, Hubbard said he's still learning new techniques and technologies. During COVID-19, he learned to use Zoom to do meetings, write with other musicians and make music.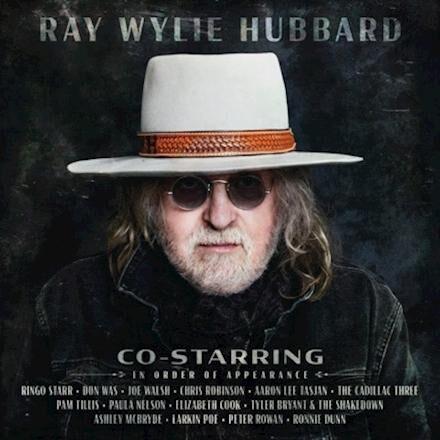 He also worked with a Beatle, an Eagle and a Black Crow on his latest album Co-Starring on a song called "Bad Trick." This was Hubbard's 17th studio release. The album features Beatle Ringo Star, Eagle Joe Walsh, the Black Crowes' Chris Robinson, Ronnie Dunn, Don Was, Larkin Poe, Pam Tillis and The Cadillac Three.
After a year off, due to the pandemic, Hubbard is happy to be back out on the road and is excited to be playing in Crockett.
"After all these years, playing concerts is a still a joy to me," Hubbard said. "I'm really looking forward to playing in Crockett."
Hubbard said his fans could expect to hear his biggest hits as well as his newest music.
Scrumptious Fried Pies and Sweet Shop Shaved Ice food trucks will open at 7 p.m. and the music will kick off at 8 p.m.
Bring your cooler, your chairs, your family and friends. This is a rain or shine event. Tailgating is allowed.
The PWFAA was founded in 1991. They are dedicated to the promotion and awareness of performing and visual arts to enrich the lives of all the people in Houston County and the surrounding areas. In addition to brining world-class performances to the area, PWFAA develops Arts-In-Education programs which strive to educate, enrich and entertain schoolchildren of East Texas through exposure to the arts.
For more information, contact the PWFAA at 936-544-4276 or log onto www.pwfaa.org.